Information
The Harvard-Radcliffe Science Fiction Association (HRSFA) is the undergraduate science fiction association at Harvard University. (For HRSFAlums who have already graduated, HRSFA has an associated alumni organization, called HRSFANS.) We are devoted entirely to the enjoyment of science fiction, fantasy, gaming, and other related stuff. We consist of a bunch of Special Interest Groups (SIGs) that focus on specific activities. You can find out more about HRSFA's history here or keep reading below and find out about HRSFA's annual events (most notably our science fiction convention, Vericon), why you should join HRSFA, and how to join HRSFA.
Mail (including bills and checks) to HRSFA should be sent to:
HRSFA
Student Organizations Center
59 Shepard St., Box #93
Harvard University
Cambridge, MA 02138

Electronic mail can be sent to hrsfa@hcs.harvard.edu or to the officer board.
With so many HRSFA annual events, there's sure to be something that interests you:
Puzzle Hunt: A day-long team-based puzzle-solving competition, featuring a variety of word, logic, physical, and other puzzle types. The hunt is specifically designed to be accessible to beginning puzzle solvers, while also being enjoyable to those with more experience. Harvard freshmen are particularly encouraged to give the hunt a try.
Ig Nobels: Organized by the publication "Annals of Improbable Research," the Ig Nobels are an annual awards ceremony parodying the Nobel Prizes; the awards celebrate "scientific achievements which cannot or should not be reproduced." The Ig Nobels are held annually on a late September or early October Thursday night in Sanders Theatre. It's a rather silly affair, with respected scientists throwing paper airplanes all over and generally making asses of themselves. HRSFA is one of the sponsoring organizations.
Wyld Hunt: HRSFA strips down and runs madly about Harvard in pursuit of a freshman stag (who gets a free HRSFA membership!). Lots of woad and howling. The Wyld Hunt takes place on a Friday or Saturday October night, preferably during a full moon.
Coming of the Hour: All Hail Chronos, for he has granted us an extra hour, from 2AM to 2AM, to waste playing games (that is, Daylight Savings Time ends).
Fall Party and Scavenger Hunt: Games, food, good times. This party features—among other things!—the Scavenger Hunt, which is unlike any other scavenger hunt you've ever tried. Winning requires creativity and ingenuity, and the winning team has the honor of writing the Vericon Scavenger Hunt. The Fall Party takes place on a Friday or Saturday night in October or November somewhere in a River House.
Fusion: HRSFA has its own publication, Fusion, to which the literarily-inclined can submit short stories, artwork, reviews, or the occasional demented advice column. Copies of Fusion are readily available for free; ask pretty much anyone, but specifically the Fusion Editor-In-Chief if you'd like a copy—or, even better, want to contribute to the next issue, creatively, editorially or commercially (we need to sell ads to keep Fusion free!).
Secret Sanyo: A non-denominational, randomized, and anonymous exchange of gifts during the holiday season.
Vericon: Our tenth annual convention will take place at the end of Spring Break, from Friday, March 19, 2010 through Sunday, March 21, 2010. Vericon includes art, games, guests, parties, and panels.
Ides of March: HRSFA re-enacts the death of Caesar, complete with oratory and togas. The Ides of March roll around every March 15th.
Masq: Everyone dresses up and dances to the nerdiest soundtrack ever. Like the masquerade scene in Labyrinth, only without Jennifer Connelly. The Masq takes place on a Friday or Saturday night in March or April.
Going of the Hour: All Hail Chronos (for Daylight Savings Time is starting again).
Spring Party: Similar to the Fall Party, except without the Scavenger Hunt. The Spring Party takes place on a Friday or Saturday night in April, somewhere in the Radcliffe Quad.
Myld Hunt: A genteel version of the Wyld Hunt, in which we dress up and stroll through the Square, potentially chasing a Fox, and then play croquet. The Myld Hunt takes place on a Saturday or Sunday afternoon in April or May.
Pre-Frosh Weekend: HRSFA introduces the next generation of HRSFAns to the organization. Pre-Frosh Weekends last over a weekend period, from Friday to Monday, in late April or early May.
For a table of dates of past events, click here.
Social Interaction
We are a social club. There is nowhere else at Harvard that you'll find so many people who share your interests in speculative fiction (science-fiction, fantasy, horror, anime, comics, television series) and gaming (boardgames, cards, computer/console/video, role-playing).
Unparalleled Science-Fiction and Fantasy Opportunities
We sponsor guest speakers; in the past, we've had Joe Haldeman, Terry Pratchett, and Catherine Asaro. We run an annual convention, Vericon, and publish an annual magazine, Fusion. We co-sponsor the Ig Nobel Prizes. Our library has a huge collection of books, and plenty of other stuff like movies, games, and comics, too. With our mailing lists and our social network, you'll always be in on the most up-to-date developments in science fiction and fantasy. And you get the chance to talk to other members, some of whom have an encyclopedic knowledge of speculative fiction.
Lots of Gaming
Boardgames, from shorter games like Settlers of Catan to longer games like Talisman and Diplomacy. Card games, from collectible games like Magic: The Gathering to casual party games like Apples to Apples to traditional games like draw poker. Video games, both of the computer and console varieties. Miniatures and wargaming. Role-playing, both of the tabletop and live-action varieties, including our own invention, Live-Action Clue. You name it, we'll play it.
Low Commitment
Or rather, as much of a commitment as you want it to be. We're all Harvard students, and we understand that as a Harvard student, you have millions of things to do and only twenty-four hours a day. Even after you join, you never need to do anything with us unless you want to. So focus on your academic work and your other extracurriculars if you want. Just know that if you're ever looking to relax, play some games, watch some movies, discuss speculative fiction, or just hang out with people, you can count on us to have an activity for you. No one is expected to come to all the events or participate in all the SIGs; just go to the ones you think you'll enjoy.
Joining HRSFA takes three simple steps.
HRSFA has three email lists maintained by the Harvard Computer Society (HCS):
HRSFA-Announce: For this list, the following types of posts are approved: official announcements (including minutes, meeting announcements, information on official HRSFA events) and important science-fiction announcements (including book signings, conventions, important news, and anything that is clearly a major event).
HRSFA-Social: This list is for posting short-term things of a local social nature, such as meetings at restaurants and going out to catch a movie.
HRSFA-Discuss: This is an unmoderated list where members may discuss whatever suits their fancy, although posters are encouraged to keep the postings somewhat relevant to HRSFA in specific and HRSFA's concerns in general.
It is vital that you sign up for HRSFA-Announce. The list does not get a lot of traffic, but what traffic it does get is important, so you need to sign up for it to know what's going on in HRSFA. For the other two lists, whether you subscribe is up to you. To sign up, just click on the names of the mailing lists above; you can also click on the above links to unsubscribe from any of the lists. (For archives of the mailing lists, see the history page.)
During the academic year, HRSFA holds meetings every two weeks, usually at 7:00 PM Sunday, in Sever 110. Sever is the building in red in the map below.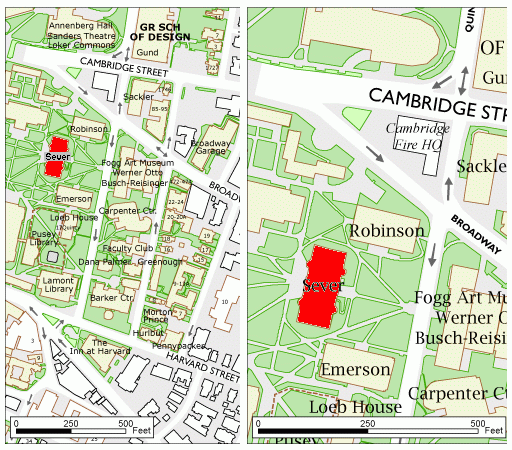 To find out the date and time of the next meeting, either subscribe to the HRSFA-Announce mailing list, refer to the calendar page of this website, or contact the Infernal Secretary.
To become an official, card-carrying member of HRSFA, find the HRSFA treasurer and pay the membership dues. The Annual Memberships, which can be bought at any time of the year and last until the beginning of the next FAS fall academic term, cost only $8. In addition, in the first two weeks after the fall freshman intro meeting, HRSFA memberships are discounted and cost only $5. (The Wyld Hunt freshman stag also gets a free membership!)
Membership comes with many benefits, enumerated both above and below. That $8 will more than pay for itself; HRSFA gives back far more than it takes. Paying your dues gets you:
a HRSFA membership card
discounts to local shops, from Pandemonium Books and Games in the Garage to Your Move Games in Davis Square
free transportation on HRSFA-sponsored events
borrowing privileges from the HRSFA library
password for access to the mailing list archives
HRSFA memberships are so popular that HRSFA alumni (HRSFAlums) will even purchase an Eternal Membership for $50! Eternal Memberships last until the end of time or the heat death of the universe (so if you become a vampire, zombie, or other undead, your Eternal Membership is still valid, though the Eternal Membership is not transferrable, even to a clone, shade, or other alternate version of one's self). New members, don't be daunted by the price of an Eternal Membership; they exist mainly as a way for HRSFAlums to donate money to HRSFA.
Participate in a HRSFA event, or find a SIG that interests you and join it!
You can support HRSFA by buying a HRSFA T-shirt for $10.00 from the HRSFA treasurer. The design by Kaitlin Heller '05 comes in two colors: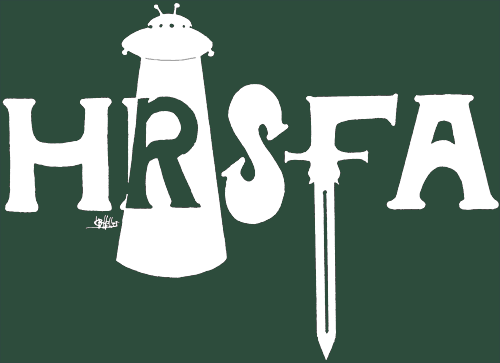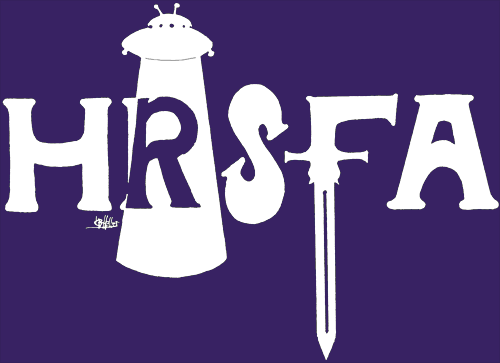 Homebase | Info | Constitution | Hist | SIGs | Calendar | Lib | Officers | Wiki | Warps

---
Last updated 2 May 2010. ©1995-2017 HRSFA.
The Harvard name and VERITAS shield are trademarks of the President and Fellows
of Harvard College and are used by permission of Harvard University.